Hey Y'all! Happy Tuesday to you. Since it's Tuesday, it must be time for TTUT, with the lovely hosts IA and see how her belly grows, and Seriously Shawn and take a trip to Florida, vicariously through her. Then link up and join the awesomeness that is.....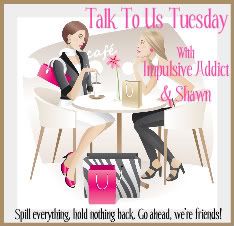 Sometimes I sit and wonder, how the hell did I get this far in life? You know, when I hear the words "we've been together for almost twenty years" and "my oldest is getting married", come out of my mouth, and I'm doing things like, taking my baby to her first day of work. And by baby, I of course mean the eighteen year old, and let me tell you, it's hard knowing, that when she starts college in the winter, it will be the last step before fleeing the nest.
***Insert necessary and over dramatic sobbing here***
Thank goodness I have plenty of things going on to keep me from breaking down, and actually think about the things going on.
D's first day at work. She's all excited. She was not so excited after 7 hours of 'on the clock' time. Growing up sucks.
You know, things like my oldest, getting married...in five days. Yeah, five days. I've got a good day and a half of food making, and cake baking, and did I mention that D got a job? There goes my foodie partner, off pursuing a life of her own, without me. But thankfully, we're doing a menu that consists of an appetizer table and a desert table, and that both the bride and groom want to keep the ceremony and reception, small and simple. Works perfect for me. Next weeks post will be flooded with wedding pictures, so there's your warning.
Here's A and T, the happy couple.
And then there's my biggest project of the moment, well besides the ones mentioned above, and the fact that I'm trying to write a business plan for a retro coffee shop I want to open, and taking care of a five year old, almost full time, I'm also working on putting together a pin-up style calendar. Originally, this was going to be a project that would help raise funds for my business, but since the accident, that left one of my bff's with nine broken bones, and me with a five year old, I've decided that all monies will go to her recovery and helping care for the boy, since it will probably take a long time for her to fully recover, or get any restitution for the wreck. We've already had one photo shoot, but I'm positive we need need another one. That way we aren't all shiny from sweat, since it was 80* in the house we were shooting in. Which also made none of us want to get into formal gowns for the formal shoots. So, well plan another one for sometime in September when the weather is cooler. Here's a quick preview.
Yours truly.
My lovely D.
My elegant A, and beautiful friend KS.
Well kiddies, I have to go face the reality that is my life. Cleaning, cooking and concocting plans. See y'all on the flip side.