Hola Peeps, it's Wednesday and time to get to know me, five questions at a time compliments of the super duper Mamarazzi and the always awesome Alicia aka Queso, go check these ladies out and be sure to join the hop.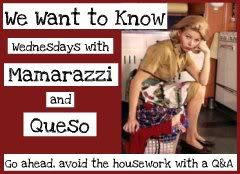 Today's question come from Mamarazzi, who just embarked on a loooooooooooong journey close to my neck of the woods, and she didn't even stop for a visit. I totally would've baked her a cake.
Without any further ado, let's get on with the show.
1. What are 3 must haves for a long road trip?
Music. Custom music, not just radio.
A blanket. The mister likes to travel with the windows down, even in winter. It's annoying. And cold. And it makes me cranky. Nobody likes a cranky road tripper.
An abundance of refreshments. I refuse to stop every time I'm a bit hungry or thirsty. Stopping is for bathroom, meals and really cool things, like the worlds largest ball of earwax or something.
2. What was the destination of your most recent road trip?
Hmmmmm...I haven't been on a long road trip in a long time. The last time I drove more than a 100 miles was about 10 years ago, when I drove to the other side of our state to visit my older daughter when she was living with her dad. Since then driving trips have been within a hundred miles. But I always bring the items from #1. I mean, what if I take a wrong turn and end up in a desolate place with no food and water....or blankets, or heaven forbid.............no MUSIC!!! I can't stand the thought of it.
**UPDATE: I have road tripped since this, about 5 years ago I flew to Maine to visit my sister then her, her husband and I drove to Talledaga, AL to see a NASCAR race, they took me for my birthday, they're awesome, it was awesome, but I didn't get to see any giant balls of earwax.
3. What do you miss most about home when on a trip?
For sure, my animals.
4. What is the furthest you have traveled on a road trip?
Well, I've been from Phoenix, Az all the way to Tacoma...No really, I'm not just singing a song, I was born in Phoenix, and we moved, by driving to Washington, okay, maybe our ending destination wasn't Tacoma, but we were only like 30 miles from it. I've also been from LA to WA, WA to AK and from ME to AL. Holy shit, I've seen some places.
5. Will you "stop for the largest ball of twine, etc" or are you a "hurry and get there" road tripper?
I will stop for anything odd, weird, creepy or just generally "out there" if I have any control over the situation. That's the best part.
What's your answers? Go link up and tell us about it.
In the words of the Great Joe Dirt,
Lifes a garden, dig it.
Marisa