It's Wednesday and time for another episode of......................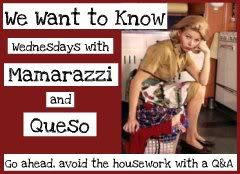 Hop on over to Mamarazzi's Place and link yourself up. It's fun, and all the cool kids are doing it.
Today's questions come courtesy of the always awesome Alicia aka Queso and they are...........................
1. What is the best advice someone has ever given you?
Enjoy life. Not sure who exactly spoke these words to me the first time, but I've heard it my whole life and tried to live by it. I mean, what good is a life if you don't live it, right? And I have to throw this one in, it's not
necessarily advice, but what I've learned through example with my family, and that is, have a hobby or twelve. Don't expect anyone else to entertain you. Entertain yourself and have fun. Pretty good words to live by if ya ask me.
2. What is your greatest accomplishment?
Making it through the death of my child without dying, myself. It was
the hardest
thing I've ever done and I'm still here, almost sixteen years later, and even though I miss him, endlessly, I'm so glad I never gave in and let my devastation smother me.
3. Who do you admire?
People who are organized. I admire them and want them to teach me their ways.
4. If you could change one thing about yourself what would it be?
I would love to be more organized. Not just materialistically, but neurologically. I can't even keep my own thought organized long enough to write them down in any type of organized fashion. I dream of being focused and motivated, but then I wake up and I'm just a scatterbrained ninny-muggins, that runs around in circles chasing my tail.
5. How do you want to be remembered?
I will be remembered as that chick with huge boobs. OOOOHH, it's how do you WANT to be remembered....Bwahahahaha
No really, I want to be remembered as the chick that loved with all she had, took care of the ones she loved and would do anything to make you smile!
Happy Wednesday, make it a good one.
Marisa