Welcome to another Q&A, hosted by Impulsive Addict so make sure you jump over to her page and link up, since it will be the last time for her. :(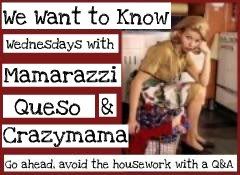 Today's questions come from Mamarazzi!!!
1. Which activities make you lose track of time?
**Anything on the computer or in a store. If I'm blogging, reading blogs, Pinteresting (my new obsession) or just looking for cake/cupcake ideas that I want to practice, or if I'm in a store, doesn't matter what kind, could be a grocery store, department store or a convenient store, I will dawdle around and look at everything thing there.
2. Is there such a thing as perfect?
**There is no perfect, just perfect for you. Although there are exceptions to everything. I guess somethings are perfect, a straight line, perfectly round circle, you know that type of thing, but as far as people go, we can only be like Mary Poppins, 'Practically Perfect in Every Way'.
3. When do you feel most like yourself?
** When I'm writing about myself. I'm giving everyone else a piece of me, and writing it down really makes me reflect on who I am and sometimes I discover things about me that I didn't even know about me. It's pretty awesome.
4. Describe your life in a 6 word sentence.
**Mostly I'm nice, but sometimes bitchy! or Everyone I love, I love fiercely. Either one's the truth.
5. Share one of your most beloved childhood memories.
**I would have to say that some of my most beloved childhood memories, were the weeks our family would spend camping. We would have these family reunion, week long, camping trips, every summer. It was the best. All of the elders of the family could get together and us youngsters could spend our days riding three-wheelers, having mud fights, and just enjoying being around each other. The best camping trip was when it was my Uncle John and Aunt Coral's anniversary and a real life Kermit and Miss Piggy were brought to the farm and I remember all of us kids being in super awe of these GIANT Muppets come to life. Yep, those were the best days of my childhood.
Y'all have a Happy Humpday!!
Marisa