Welcome to We Want to Know Wednesday Q&A hosted by:
Implusive Addict
,
Janette
,
Mamarazzi
, and
Seriously Shawn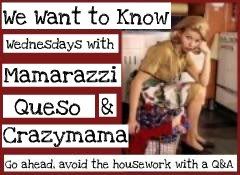 1. What was the last thing you searched for online?
** 1950's Swing dresses, for myself and my girls for pictures. Man they're expensive.
2. If we visit your home state, what is one MUST we should do before leaving?
**Oh my what do I pick? The mountain, the ocean, the city or the desert. I guess since Seattle is our metropolitan city, you'd have to go there and check out the city and eat at the space needle.
3. What do you think pharmaceutical companies should invent a pill for that isn't on the market yet?
**PMS. I mean really, has no woman doctor/scientist suffered and had their family suffer enough to make some sort of pill that doesn't whack you out even more.
4. When was your first kiss? Was it good or bad?
**Ugh! No Bueno! I was on a dare to kiss Kenny H. for seven seconds when I was ten, during recess in the fifth grade. Nothing like a seven second, toungeless peck, that everyone is watching you do, to make your first kiss a tad uncomfortable. But, it was a dare, and if I didn't do my dare, I would have to lick the bottom of the shoe of the Darer. That's definitely worse than a bad kiss.
5. What is your guilty pleasure tv show that you can not miss?
**True Blood, Treme and Entourage. Those are our Sunday night shows. After a long weekend of usually going our separate ways to have fun with different people, doing different activities, The Mister and I can meetup together on the couch and spending quality snuggle time, while watching shows that make us, laugh, cry and say WTF???
What are your answers, come along and play. And don't forget to link up with
Mamarazzi
, she's awesome.
Rock on!
Marisa