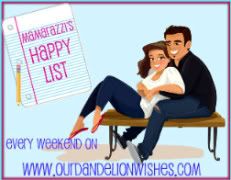 Thanks Mamarazzi for doing this list. I think it's important for people to be happy about things, even if all seems like crap in life.
I'm currently happy about;
Going to Starbucks with my kid, to see an old schoolmate. I made her daughter a Seahawks colored tutu, and were going to go drop it off to her, have some coffee and chit-chat for a while. Then me and the kid are going to the Goodwill across the street to do some second-hand shopping. It's the best. We try on ridiculous things and have fun and always find treasures we can't live without.
That it's racing season, and The Mister will be spending at least one weekend day out of the house, doing something other than fill the house with sounds of Call of Duty and expletives.
It's not fricken raining and hasn't rained in two days. Giving me some time to mow the much neglected lawn.
I applied for a job, for the first time in four years. I'm hoping I get it, it's for a coffee company. Can we say dreeeeeeeeeeeeeeeam job? I want to save up some money for a side vacation at the end of this summer, without draining our main vacation account.
I'm planning a mini-side vacation at the end of this summer, to go to Arizona and re-meet my bio dad, stepmom and meet for the first time, my grown-up siblings and their kids. Should be super exciting. We've been chatting it up and getting to know each other on FB for a couple year now, sure will be nice to put real faces with the pictured ones.
Have a great weekend, I'm off to Starbucks!
Marisa