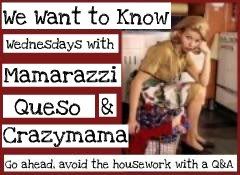 1.
Everyone seems to have a quirky family situation-- what is something unique about your family dynamic?
♥
I think one of the things that people find "different" about us is, my husband and I were together for sixteen and a half years before we got married. Our youngest was fifteen and we flew to Vegas, without the kids and got hitched, and for very unconventional reasons. Other than that, just think of us as a family of black sheep.
2.
What is the most stressful aspect to blogging (aside from the network going down)?
♥
Blogging doesn't stress me out, nor does anything about it. If it did, I'd probably quit doing it. I didn't get into it for the stress, I got into it, to help me focus on something that I did for
me
. I'm forever running around, both physically and mentally, and this blog helps me sit and focus on one thing and I'm definitely getting better at being efficient in other aspects of my life because of it. I hope I continue to feel this way about it, because it appears that I have a lot to say.
3.
We all end up on a blog at some point in our day, but name your top 3 favorite websites you flock to daily (non blog)!
♥
That's easy, Facebook, Twitter, Google. Followed by, Amazon, Craigslist, Etsy.
4.
What's your sign? Believe in it or not, does any part ring true to you?
♥
Are you hitting on me? I am a Libra, in just about every sense of the word. *I need balance - True, true, true...I have the gift of being able to see both sides of a situation, this is also a curse, because it's near impossible to make up my mind, since I spend so much time weighing my options. Yeah, I feel sorry for my family too. *I love beauty - True! I love sparkly, flowery, colorful everything. The list goes on and on and on, I could spend an entire blog writing about it. Hmmm...you tricky idea planter you!
5.
IceCream!! ICECREAM!! We all scream for icecream! Name your favorite flavor/brand!
♥
That's an easy one too. Ben and Jerry's Phish Food. How can you go wrong with chocolate ice cream, marshmallow/caramel ribbons and little chocolate fishy's. It's the most delicious ice cream
ever
. Followed closely by their New York Super Fudge Chunk. Thanks, it's 7:22 am and I want ice cream.
As always, thank you for your support!
And Rock On!
Marisa