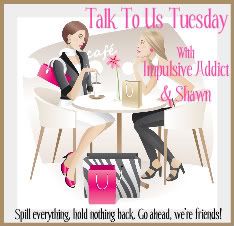 And let me tell you it was a process. You see, Sunday was girls night at KT's house since the kids had the day off on Monday and most of the girls had the day of.
Not me.
No I had to get up and go to work yesterday. Granted it wasn't until 3 pm, but when you go to be drunk at 12:30 am, then get back up at 5am, it makes for a really long work day.
But let's move on, shall we?
If you're not linking up with The lovely IA and The not so serious, SS for their amazing blog hop, that has...wait for it...........NO RULES.
Woot woot. Get on over and link up, my sweet hussies out there.
Why doesn't anyone use the word 'hussy' anymore. I think it's rad and that I should totally bring it's popularity back. There's to many whores and sluts out there, and not nearly enough hussies.
And now for something completely different.
I'm kinda bummed that I have such a impeccable work ethic, tonight is a really badass concert that I would LOVE to go to, but my Jimminy Cricket won't let me. It has Megadeath, Motorhead, Volbeat and a few others I don't think I care about, but NOOO, I'll be at work, listening to Ace Of Spades on my headphones, while crying.
And I'm also kinda bummed that I'm missing all the Mardi Gras parades. But I do love going through my pictures from our last trip, complete with gatahs, but by next Mardi Gras, I'll have two weeks of vacation and I plan on taking one to go to New Orleans with the Mr. and then a week in Costa Rica, with my ladies, to go see my cousin, and be served beers on the beach by buff young bandidos. But, alliteration aside, I really want to go to Costa Rica and I'm really hoping that my friends can use the 16 month notice to save up and get ready for the vacation of their lives.
I'm super excited that I get this whole weekend off this weekend. I can do some much needed catching up on housework I need to do. Yeah, that sounds fun.
Here's something I'm totally awesomafied about. I've lost 40 lbs in 4 months. Just due to the fact that I'm back working, and I walk up and down a table all night. No, I'm not a stripper. But I do run a long machine with a table top that I'm constantly walking up and down, and lifting heavy rolls of material, aaaand I'm not around a refrigerator all day, to snack and eat, eat and snack. In just four months, at this rate, I'll be at my goal weight. Can I get a woot woot???
Hells ya.
Okay kids, I gotta go. I'm glad I got to sit and write for a few and link up with my chicks for TTUT!
Thanks for being there ladies. :)