Hanging out with Impulsive addict and Seriously Shawn with their rebelicious "no rules" link. Can we say fabulous?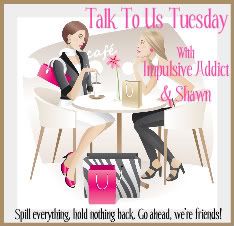 I think that I'm finally getting the hang of this "job" thing. I'm on my fourth week, third of swing hours, and I'm definitely not feeling as worn down as last week, or the week before. Also, I can now stand on my feet for eight plus hours, and not feel like they have bruises all over them. Such a cry baby I am.
I also now have as many nicknames as I do personalities. For some unknown reason, I have the hardest name in the world to remember, it's Marisa, not pronounced Mar is sa, but Mareesa. No one can remember this and when they can, they can't spit it out correctly. So now, I'm known by day as Rease and by swing, I'm Mo. Although yesterday, I was called Shero, by my lead, and I think that's my favorite so far.
I was also informed yesterday, that I'm the fastest picker upper, that they've hired in a year for my position, and that they have no doubts that when my temporary status is up, I'll be a permanent hire. Bounty ain't got nothing on this chick!!!
The one thing that really did suck though, was I didn't get to go out Halloween night. I costumed it up on Saturday, but I like to dress up on Halloween and terrorize walk the childrens around. In case you missed it, I was this for my costume party.
Yup, that's me. In traditional Day of the Dead makeup. Pretty rockin' right?
It was brought to my attention that the design I'd put on my right cheek, resembled that of a penis. This was both, true and unintentional. But, the rest of my makeup was flawless.
Well, it appears that my time here is up, and I have to do that working housewife stuff. Don't forget to go link up with the lovely ladies above and check out some other fellow bloggers. You never know who'll you get to know.