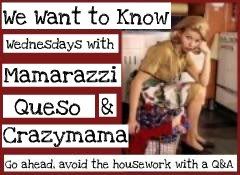 Holy moly, I haven't been able to do a WWTK Wednesday in ages, but I'm starting to adapt to my new schedule, and I'm back in the saddle baby!!!
Thanks to ever beautiful, Mamarazzi, and the new face I see, Crazymama, who I look forward to getting more acquainted with for hosting this wonderful link up, aaaaan the always amazing, Queso, with this weeks questions, and the new face I see, Crazymama, who I look forward to getting more acquainted with.
1. Do you shop til you drop, or are you in and out as soon as possible?
I'm a bit of a mix. If I'm in a hurry, you betcha it's in and out for me, mostly, almost, okay fine, I dawdle a lot. I like to look at EVERYthing. I can spend three hours in Target and only spend thirty bucks, because I want to walk down just about every aisle, even if I know I can't get anything. I'm also pretty famous for putting things in my cart, then putting them where they totally don't belong in a totally different part of the store back on the rack.
2. Are you a price conscious shopper?
For the first thirty-six years of my life, absolutely 100% of the time. The last two years however, have been a different story. The Mister got a great paying job and we started living the folk music artist rockstar life, then he got laid off and our cars broke down and sucked our savings away, now were back at, living the totally tight budgeted life. Luckily, were both back to working though, but were keeping up with the life of frugality.
3. What store could you spend HOURS in?
Honestly, the stores I love to peruse the most are, thrift stores. There are so many treasures that can be found, and the book section alone can take up and hour or two.
4. What is the most frivolous purchase you've ever made?
It's a tie, between my couches and my bed. I love them so much, I never want to leave them.
5. What was the last thing you bought for yourself?
The cutest, comfy winter boots, in dark brown, for fifteen bucks at Fashion Bug. Absolutely COULD NOT pass up the great sale on them. In fact, the sale was so good, got the younger a matching pair.
Now, I better get ready to go earn some dough for the matching coat I want.