Well happy happy Tuesday to you all, if there is anyone left out there. I know I've been neglecting you, Dear Blogger, but no more will you be ignored. For you have a new purpose now.
But first...
When you're done here, hop on over to see the ever shrinking Impulse, who by the way, is looking HAWT. Hubba hubba! Then cruise on over to the fabulous Shawn, who's had a pretty amazing month, way to go woman and I'll be right there with ya in nine days, with my vodka and Red Bull!!! Then link up with them for they're no rules blog hop. I love these women, throughout the last six months of working, I've tried to at least blog once a week, and when I did it was always for a Talk to us Tuesday, with these brilliant ladies.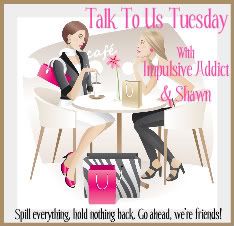 Okay, now back to me and the figurative earthquake that has shaken up my world. So, you know how I got me a job, and even though it wasn't the greatest, most meaningful job in the world, it was my job and I loved it. Yeah, well, last Thursday I was called into the HR office, which by the way is NEVER good, and was told that some comments that I had made *which honestly I thought were going to be along the sexual harassment line, what??? I'm kind of a flirt, and I flirt with everyone* were seen on another co-workers FB and although I *and others* really don't think what I said was a fireable comment, but I may have mentioned the VP of our company, by his first name, so I was, in fact, fired. UGH!!!
WHATTT????
Yes, my desire to make someone laugh, got me fired....for the very first time.....EVER!
I'm still devastated.
My job was nothing special, but the people I worked with were are AMAZING. And I feel good that my entire crew is on my side through this. Even my supervisor and my General Manager for our shift, couldn't believe that I was being let go. Also, they tried to say that the comments I made were on the clock. I checked, they were not. I'm thinking of fighting it, but first I have to start by writing an apology letter to the VP, that doesn't actually tell him how I really feel about him, and that doesn't include the word, douche. I've tried 27 times and failed. I might still be bitter.
Political correctness is going to be the death of comedy.
On the plus side of this.
I made some good friends over the last six months and the people that really matter will be kept in touch with. D will actually make it to school....on time....everyday, because I won't be so damn tired every morning. I will get to spend the next two weeks my one of my favorite women, KT, since she's moving away from me. Granted she's only moving 7 miles away, but I'm a hillbilly, and she's moving off the hill. I'm very sad about this. My liver however, is pretty okay with it.
I have more time to bake and become a successful caterer.
I have more time to take pictures of pretty things like this.
Sure sign spring is here.
The day before my last day at work.
I love these colors.
Also, this guy will be happy that I'm home more, for the next few months.
He has really missed his mama.
So, even though my predicament is very bittersweet. I'm kinda happy to be home, except for ONE HUGE THING.
My weight. Since October, I've lost almost 50 lbs. I'm terrified of gaining it back, so now, my sweet Blogger. You are going to help me not only, NOT gain the weight back, but you're going to help me lose more. I refuse to stop heading in the health direction that I was going, and you're my back up.
Together we can do it.
Well, now I must be responsible and get some stuff done, so that I can go get some more stuff done, then do more stuff.
No rest for the wicked, and I'm pretty damn wicked!
Hey guess what???
I'll be here tomorrow.