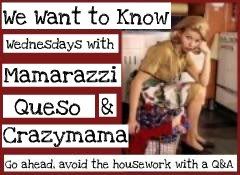 This week's questions are from
Seriously
Shawn
1.
What is the best or worst pick up line you have ever been given?
* I don't know if it's the best or worst, but the most common is "You sure have pretty eyes", which is better than "You sure do have a purdy mouth".
2.
What is your most and least favorite day of the week?
*
Worst day - Monday. Not because it's bad to me, but because it's bad for the family and that's bad for me. Best day - Saturday. Especially since it's summertime, it's a full day to do, whatever you want.
3.
How many hours of sleep do you require each night?
* At least five, but no more than seven. Either side of that window and I'll be a drag-ass all day long.
4.
Is there a song that takes you back in time? What song is it & what's the memory attached?
* Strawberry Fields Forever. It makes me think of going with my Grams to the strawberry fields to pick strawberries for freezer jam. MMMmmm freezer jam. Those were some of the best years of my childhood.
5.
What is your biggest guilty pleasure?
* OMG, this is a tough one, but I'm gonna have to go with the TV. I have shows that I watch with the Mister and there's the shows that I watch with the kid. Thank goodness for On Demand or I'd never get anything done. EVER!
Happy Humpday to y'all!!!
Marisa